August 29, 2015
No Comments
First day of school pictures are a rite of passage. It's an exciting time, but it can also be filled with anxiety, running late, sibling rivalry, and teenage angst. Of course, we as parents are required to capture these moments for future embarrassment posterity, especially when first day of school pictures don't go as planned!
We had our own moment this week when trying to get a picture before the start of Carter's first day of 1st grade. He was actually very excited to go to school, and all was fine until his dad did his hair the "wrong" way. To add insult to injury, I asked him to put his light saber down so he could hold the sign. How dare I!
I was laughing so hard taking this picture (which didn't help matters), so I thought I'd see if I could find some other adorable and not-as-planned first day of school pictures. I have to say, I love these more than the "perfect" ones. Ahhh… making memories!
Not So Happy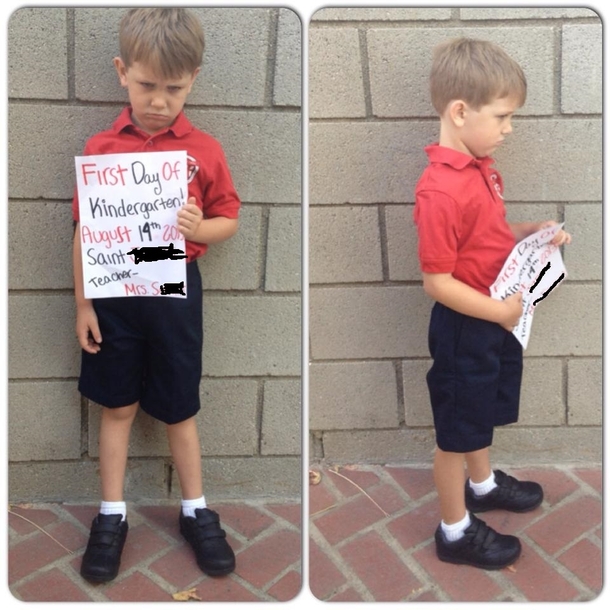 (source MemeGuy.com)
A photo posted by Sheri Thomas Wiatrek (@sheri13wiatrek) on
A photo posted by FML- Funny Posts (@eff_em_el) on
When you've got a dream, you've gotta grab it & never let it go! Harry's first day at infants school #emotional #firstdayofschool #hulksmash

A photo posted by @the_hale_diaries on
Sibling Love – I need to see if I can dig up some school pictures of my brother and me. I'd be shocked if there aren't some with me in a headlock!
(source the Accidental Missionary)
A photo posted by LisaaMariee? (@terrible.nightmare) on
A photo posted by @jilldickey1 on
A photo posted by Victoria Cansdale (@vix_cansdale) on
Photo Bomb – who doesn't love a good photo bomb? Funny that it always seems to be the littler sibling.
A photo posted by Sarah Williams Linster (@sarahlinster) on
A photo posted by Amy Perdaems Martodam (@amartodam) on
A photo posted by kelly farrugia (@mrskellyfarrugia) on
A photo posted by Savitri Wilder (@scwilder) on
By the way, looking through all these back to school photos made me smile – so many cute kids with so many proud parents!
Do you have any hilarious back to school photos you've seen or taken of your own kids? Share links in the comments below or message me and I'll add to the collection!